There's no better time to start
investing
Note:This is NOT a get rich quick scheme, nor is this a course that's going to tell you what to invest in.No course can offer you personalised financial advice. Investing involves risk & if you are unsure, you should always seek personalised professional advice from a financial advisor.
no seriously...
But chances are you
already

know this
You've spent months, maybe even years watching people invest from the sidelines. And you've started to hear a voice inside saying... maybe I can too?
✅ Maybe I can understand how to best invest in 2023 and beyond.
✅ Maybe I can learn strategies reserved for professional investors.
✅ Maybe I can learn how to create generational wealth for myself & my family.
But every time you even think about starting or continuing to work on your existing investing strategy, you end up overwhelmed and stuck.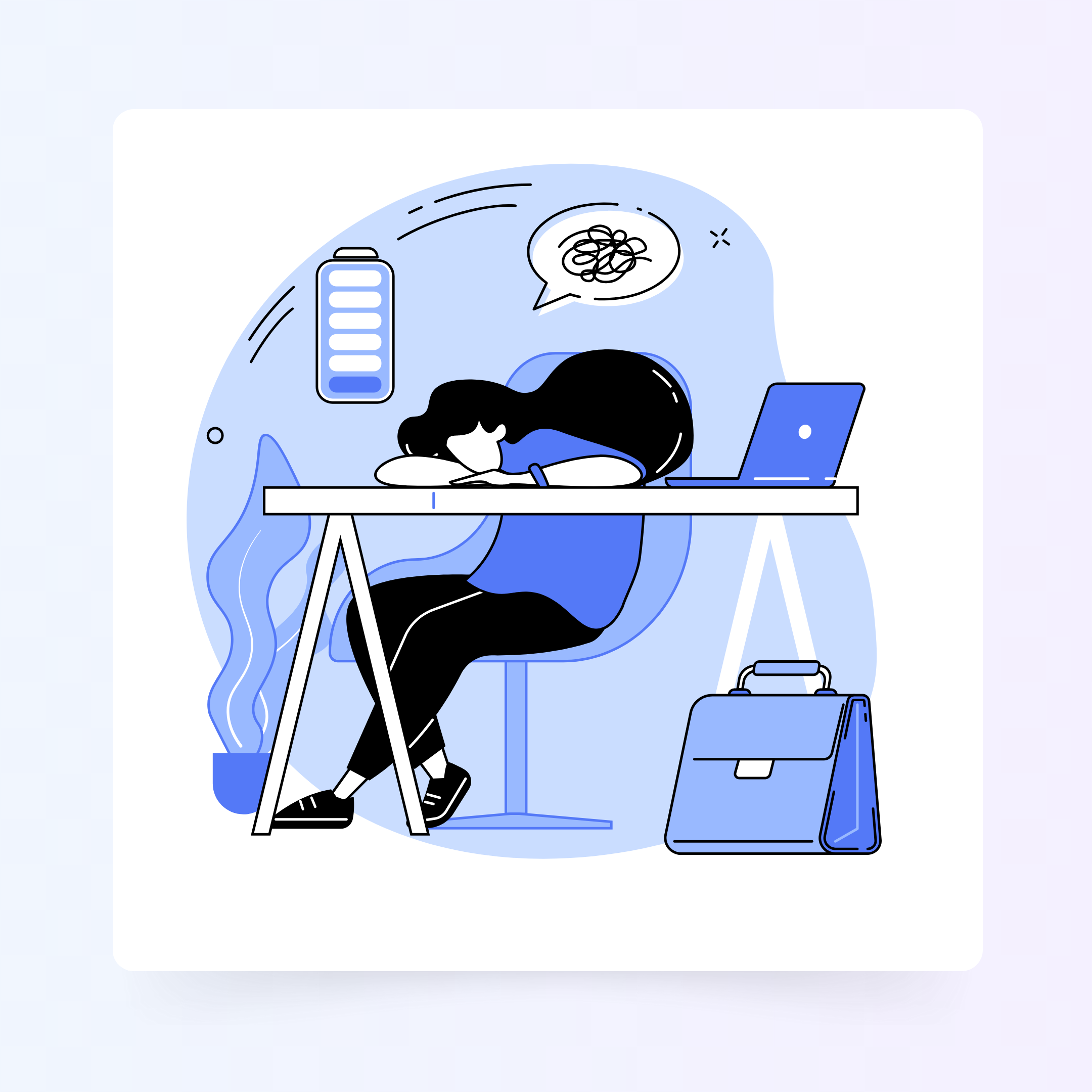 You're in the right place if...
You know you should start but don't know
where

to begin

When you're juggling a hectic college load or a 9-5 job, improving your skills has no choice but to take a backseat.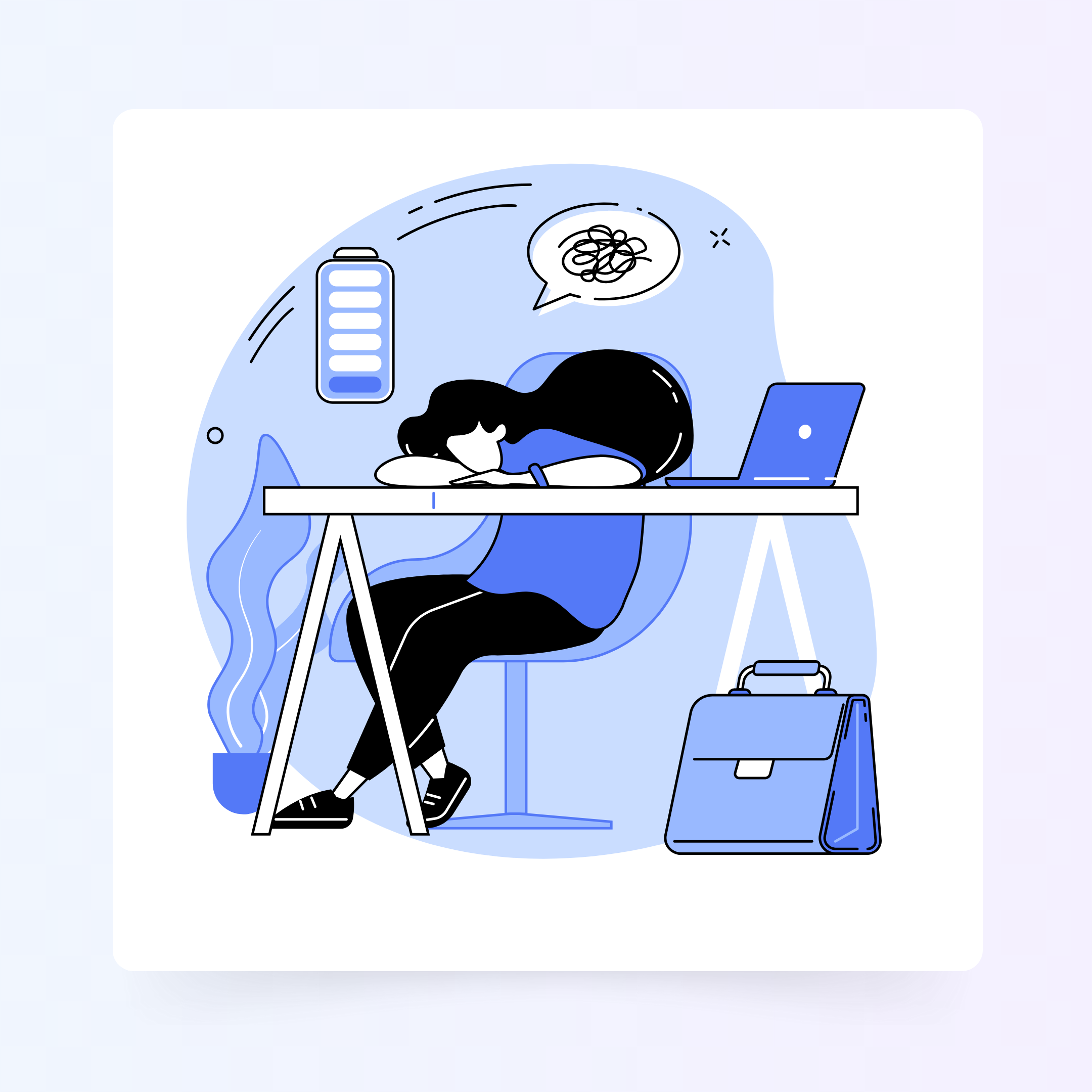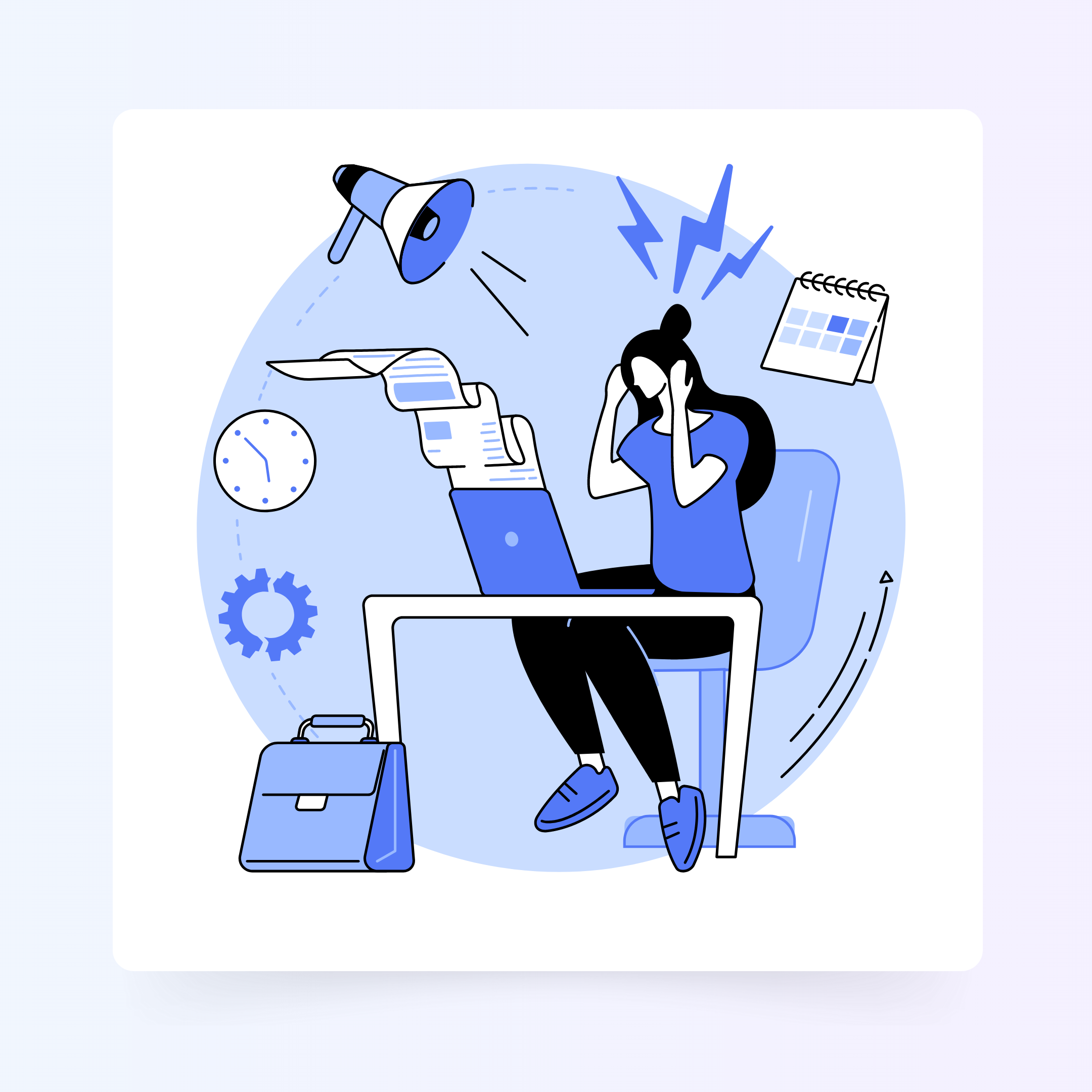 You feel like you struggle with all the jargon &
what to research
And the worst part is you're scared about about making the wrong move and accidentally losing money in the process.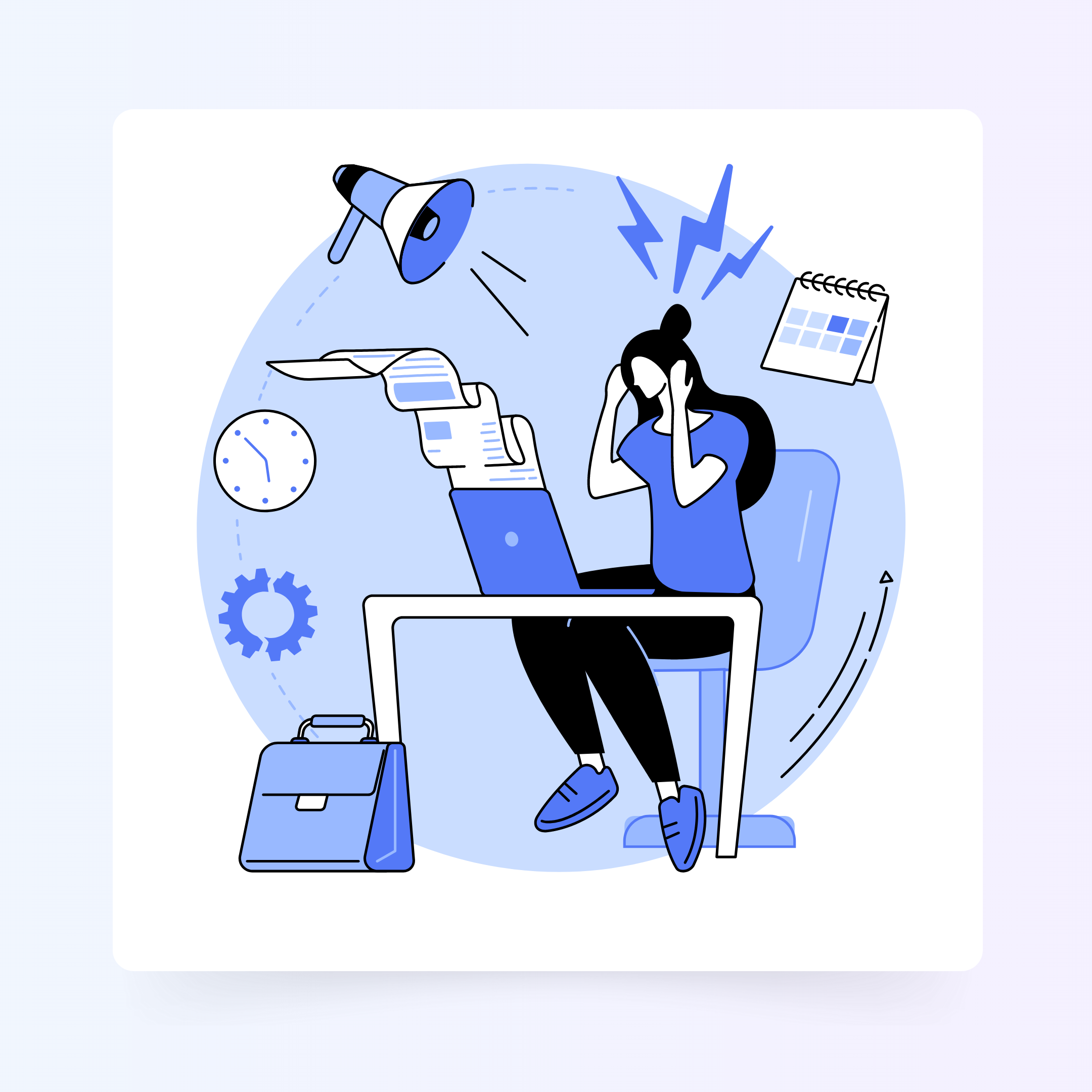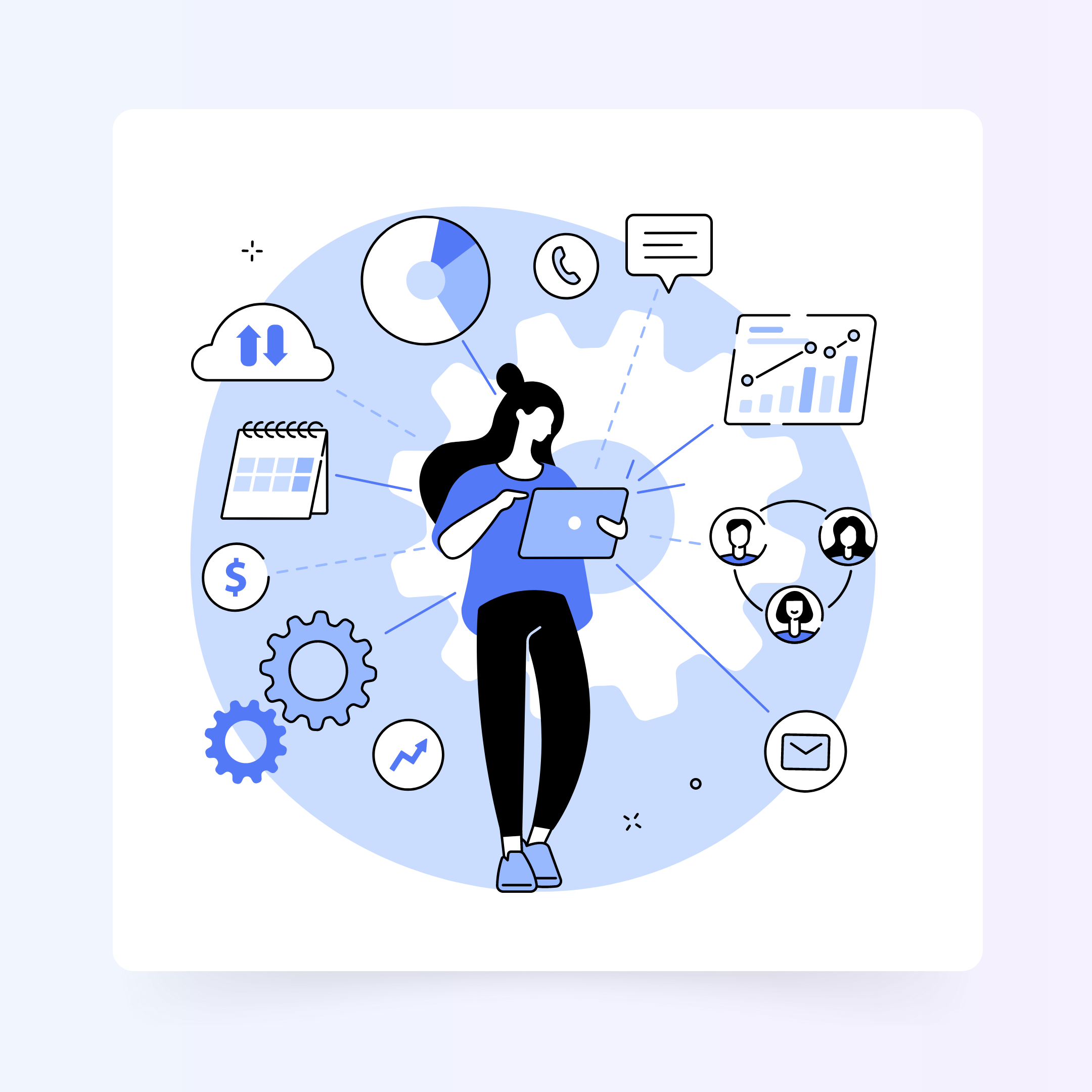 You're not sure which investing platform to sign up with & are
overwhelmed

by information

After days or even weeks of research, you constantly feel like you're just not getting ahead.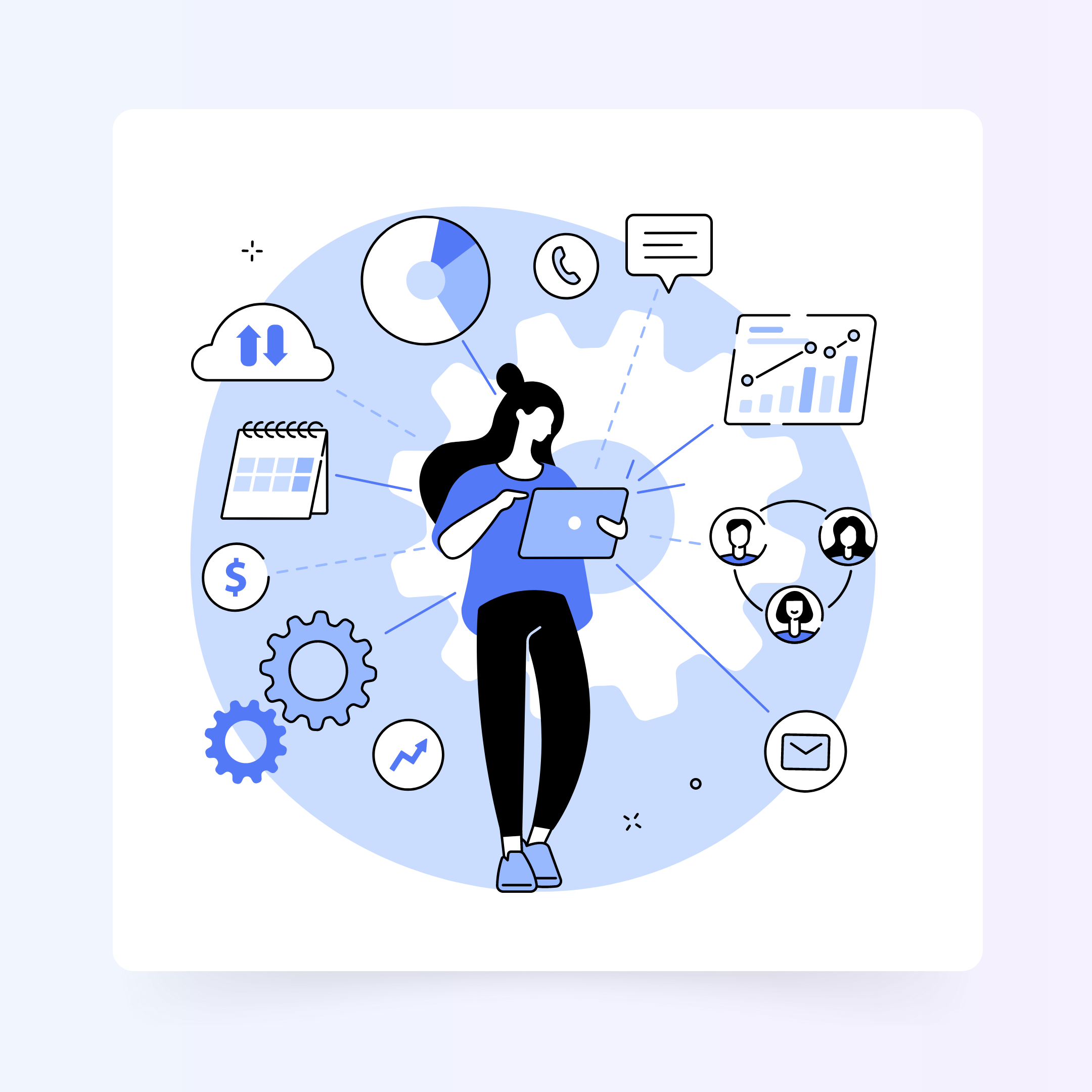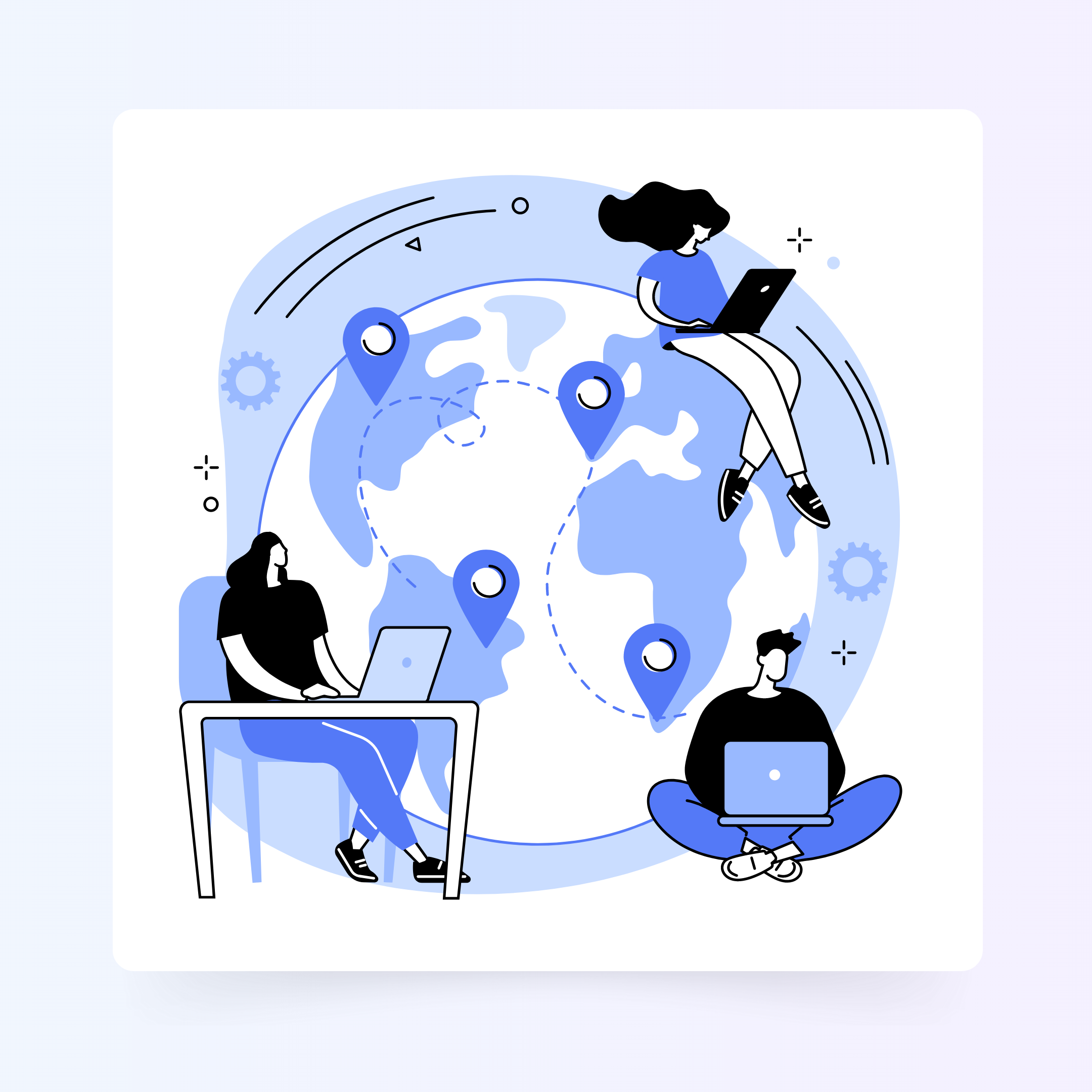 You're from 🇺🇸, 🇬🇧, 🇨🇦, 🇦🇺, 🇳🇿 or internationally 🌎 and you want to learn how to invest
both

overseas and in your home country.

It's tiring trying to work out what applies to you and what doesn't. If only there was a road-map that laid it all out in simple, easy to understand language.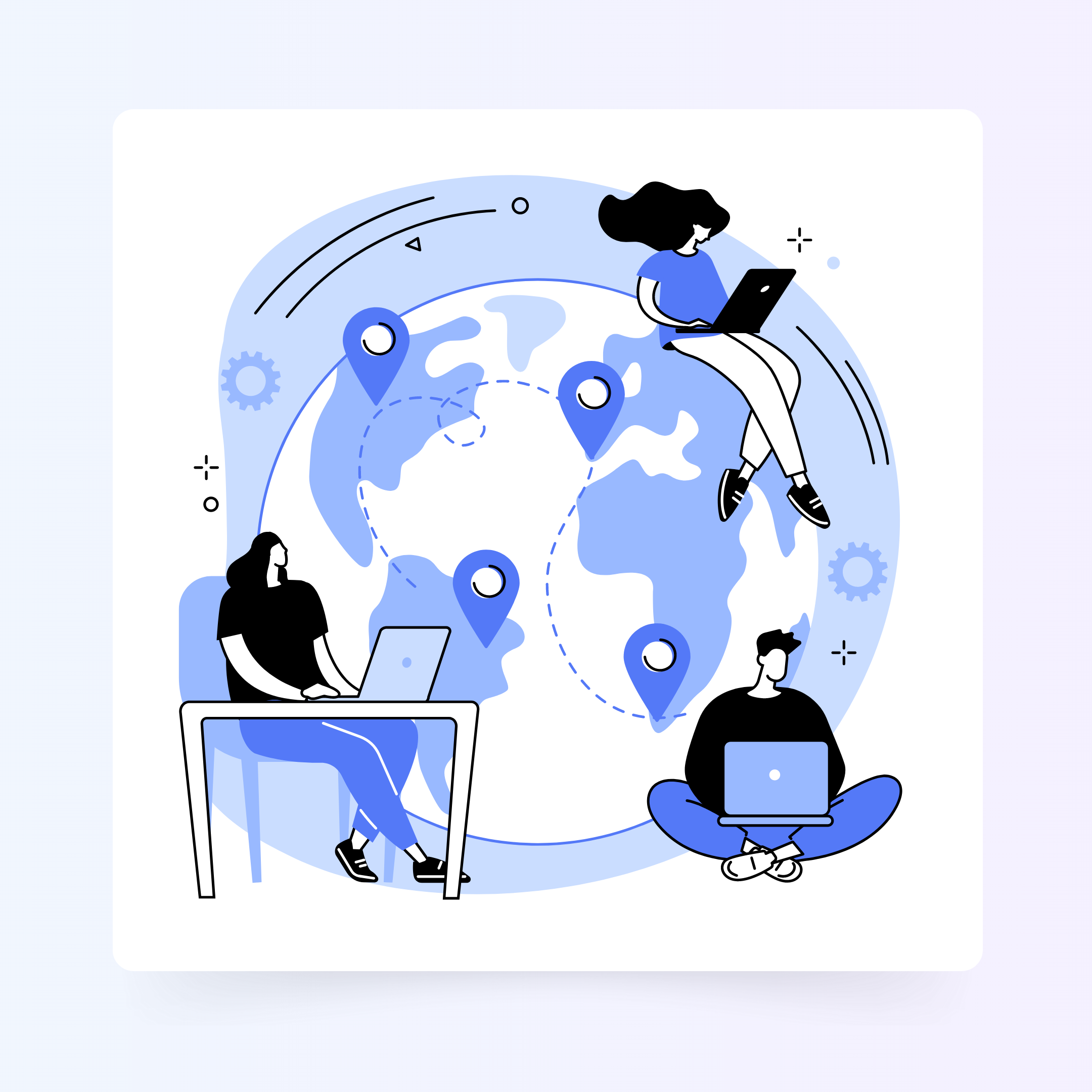 Why does it feel so difficult to get it
right

?

Let's be frank, jumping into the stock market is hard. Understanding all those ratios isn't easy. Knowing what you don't know isn't easy.

You're determined to start with what you have, but you're still struggling to figure out what funds to choose, what broker to use or where to learn about up and coming stocks and so much more.

It feels never ending

Even once you find out a broker and start putting together your portfolio, you're still unsure how to interpret the mountains of information out there.

You want to invest in a way that you feel confident about, but it's incredibly daunting when every strategy you consider seems like it's mirroring everyone else's moves.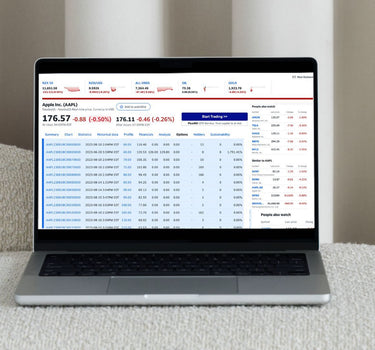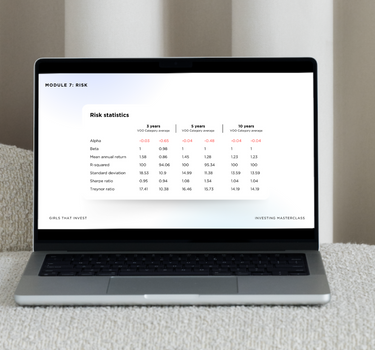 To make matters
worse

no matter how many podcasts you listen to or books you read, it never seems to make a difference.
You're still surfing blogs and videos like it's an Olympic sport, trying to piece together all the conflicting information

Yet you don't feel any closer to knowing where to start or how to improve without feeling overwhelmed.

You can't seem to get started or feel confident in investing, and you wonder if you should just call it quits on the dream of financial freedom.

Sound familiar?
I don't want to make the wrong move✨
I don't want to make the wrong move✨
I don't want to make the wrong move✨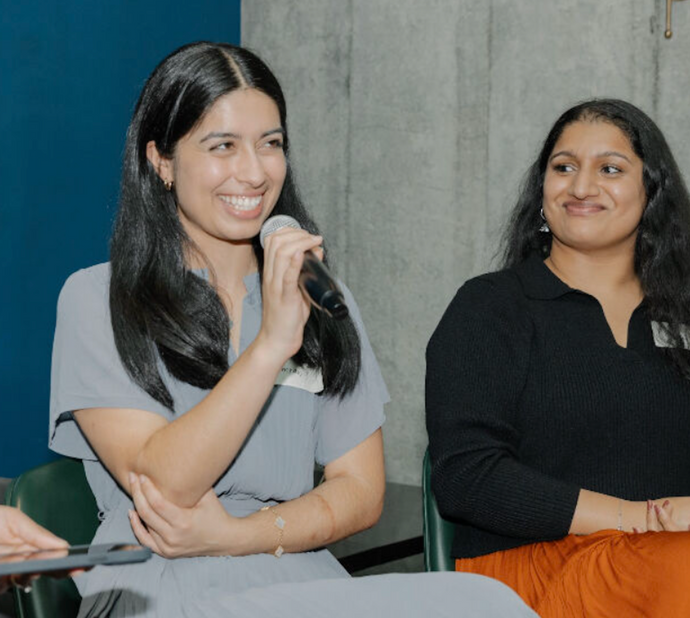 Hi there, my name is
Simran Kaur

👋🏽

I'm an investor who puts her money in Venture Capital and Public Markets. I'm also a Forbes 30 under 30, best selling author & one of the worlds most recognised investing educators.


After being asked by friends and family time and time again on "what all those numbers meant", I studied a certificate in Financial Markets (US) and began helping women navigate the education behind investing.

It brings me so much joy seeing others realise that they too can understand these "complex" concepts so easily & expand their financial literacy. Oh, and the best part? I get to do this alongside my best friend of 20+ years, Sonya 🌎
But the truth is, when I first started investing, I had
no clue

what I was doing

Even though I had grown up in a financially savvy family, I knew next to nothing about how to properly invest my money.
At the start of my journey I set an impossible goal of trying to create an investment portfolio myself. But I had no roadmap of how to do that. In fact, I thought an investment portfolio was kept in a clear file in your office! How embarassing!

Every time I tried to invest like a pro I felt like I was researching into a void and crossing my fingers.

I'd spend hours and hours at the drawing board trying to understand how the market worked and reading charts that didn't really make sense to me, only to get single-digit returns. Occasionally, I'd be rewarded with a tiny spike in my investments. But it was quickly followed by a long, long period of stagnated returns.

My 'strategy' at the time was to throw a bunch of stuff at the wall, just trying to find the tiny sweet spot between what I enjoyed investing in and what other people told me to invest in.

You may find yourself still feeling stuck because...
You don't know how to start 🤔
Too many investors get caught up in learning all those different terms, concepts and ideas that they struggle to piece all of the information together into concise & actionable investing steps. It's an information overload that results in many new investors giving up or feeling overwhelmed.
You're scared of losing money💰
All investments carry risk, but not many new investors realise that there are different tiers of risk. Our toolkit teaches investors in training how to find their risk profile & how to work with the risks involved. I still remember the first time I lost money in the market, but I'm going to teach you the lessons, without you having to make the same mistakes.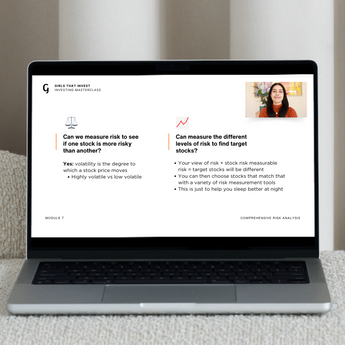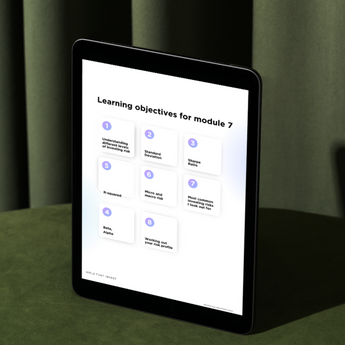 introducing
The only investing course you'll
ever need
The Investing Masterclass
A comprehensive 6 week step-by-step educational roadmap to help you go from a complete beginner to a confident & knowledgeable investor, from anywhere in the world. Created by the worlds largest investing podcast for women.
Designed to teach you everything you need to know about investing,
for life.
🤔 You won't find any clickbait tactics or gimmicks that don't actually teach you how to be a great investor.
🤔 You won't find get any rich quick schemes or someone to tell you exactly what to invest in or personal advice (a financial advisor would be best suited for that!)

🙌🏼 Instead, you'll get an inside look into how to research and operate investments, the decision-making process and everything I wish I'd known as a brand new investor. You'll get to see real life investment portfolios and see examples of red and green flags to look out for when investing. Get access to years of trial and error condensed down into just 6 weeks of life-changing lessons.

This course is perfect for you if
✅ You're looking for a complete investing masterclass where you have a lifetime access to our comprehensive investing roadmap to guide you every step of the way.
✅ You're looking to gain clarity around how to begin, what is involved and the tools & strategies needed to make confident investing decisions.
✅ You want every step to be made easier with helpful walkthroughs, play and pause videos with supporting scripts and templates.
✅ You live in the US, UK, Australia, Canada or Internationally and you want to begin investing.
What Can I
Expect

from This Course
🤔 If you're about to invest some time and energy into your financial future, you're in the right place!
📈 Over the course of 6 weeks, video modules are dropped every Sunday for you to watch in your own time.
🌎 Then you can use our private group, ask questions daily with Sim and alumni students and learn alongside thousands of other investors in training.
Our Investing Masterclass includes
✅ Weekly Multiple HD, Closed Caption Videos To Watch At Your Own Pace.
✅ Videos Filmed & Released In Current Time, Not Old Re-used Content.
✅ Over 20 Quizzes To Test Your Knowledge
✅ Over 10 High Quality PDFs To Accompany Your Learning
✅ Lifelong Access To This Course So You Can Refer To It Anytime
✅ Live Q&A With Sim At The End of The Masterclass
✅ Lifelong Access To Private Group for with Alumni Students To Ask Questions
Module 1: Why Do People Invest

👉🏽 Money Mindset
👉🏽 Investing Goals
👉🏽 Limiting beliefs
👉🏽 Introduction To Investing
👉🏽 What ✨ACTUALLY✨ is Investing
👉🏽 Understanding the risk: best worse case scenarios
Module 2: The Foundations

👉🏽 Misconceptions About Investing
👉🏽 Understanding Stocks & The Stock Market
👉🏽 History of The Stock Market - Wall St
👉🏽 The Two Ways To Make Money Through The Stock Market
👉🏽 Why Do Stock Prices Change & The Influence On Shares
👉🏽 What You Can Invest In The Stock Market
👉🏽 The Truth about ETFs & Index Funds
Module 3: Understanding & Classifying a Stock

👉🏽 Understanding Market Capitalisation and it's place in an investing portfolio
👉🏽 Understanding Cyclical and Secular Stocks
👉🏽 The Difference Between Common and Preferred Stocks
👉🏽 Understanding Blue Chip Stocks
👉🏽 Understanding Growth Stocks
👉🏽 Understanding Dividend stocks + more
👉🏽 Stocks That Made History
👉🏽 The Truth about investing in individual stocks
Module 4: Investing Strategies

👉🏽 Key Investing Strategies For All Investors
👉🏽 Sharemarket Investing Strategies: Passive Investors
👉🏽 Tools to become a Passive Investor
👉🏽 Sharemarket Investing Strategies: Active Investors
👉🏽 Growth Investing
👉🏽 Fundamental Analysis & Technical Analysis
👉🏽 Investing vs. Speculating
👉🏽 Working Out The Intrinsic Value of A Company
👉🏽 Quantitative vs. Qualitative
👉🏽 Investing in Dividend Income Stocks
Module 5: Understanding Those Statements

👉🏽 How To Value A Company
👉🏽 How To Read Annual Reports
👉🏽 How To Read A Financial Statement
👉🏽 How To Understand a Balance Sheet
👉🏽 How To Understand a Income Sheet
👉🏽 How To Understand a Cash Flow Sheet
Module 6: Understanding The Numbers

👉🏽 Ratios you'll love (or hate)
👉🏽 P/E, PEG, P/S, P/B Dividend Yield
👉🏽 RoA, ROE
👉🏽 Debt (Debt To Equity, Interest Coverage) & Efficiency
👉🏽 Reading Stock Tickers
👉🏽 Working Out Intrinsic Value of a Stock
Module 7: Comprehensive Risk Analysis

👉🏽 Understanding different levels of investing risk
👉🏽 Standard Deviation, Sharpe Ratio, Beta, Alpha, R-squared
👉🏽 Micro and macro risk
👉🏽 Looking at risk measures 
👉🏽 Most common investing risks to look out for
👉🏽 Working out your risk profile

Module 8: Forming Your Portfolio

👉🏽 Before You Invest Do These Things
👉🏽 Investing Profiles
👉🏽 Asset Allocation
👉🏽 How Much To Begin Investing
👉🏽 How Often To Invest
👉🏽 Choosing an Investing Broker (UK, US, Canada, NZ and Internationally)
👉🏽 Fees 101: Everything You Must Know Before Beginning
Module 9: Continuation of Care & Tax

👉🏽 How To Review & Revaluate Your Stocks
👉🏽 How To Rebalance Your Portfolio
👉🏽 Tax 101: Understanding Your Tax Obligations (UK, US, AUS, NZ & Overseas)
👉🏽 EXTRA: Common Mistakes New Investors Make & How To Avoid Them
Module 10: When Stocks Go Wild (Or Don't)

👉🏽 Understanding Stock Splits
👉🏽 Understanding Stock Buybacks
👉🏽 Understanding Mergers & Acquisitions
👉🏽 Understanding Preferred Stock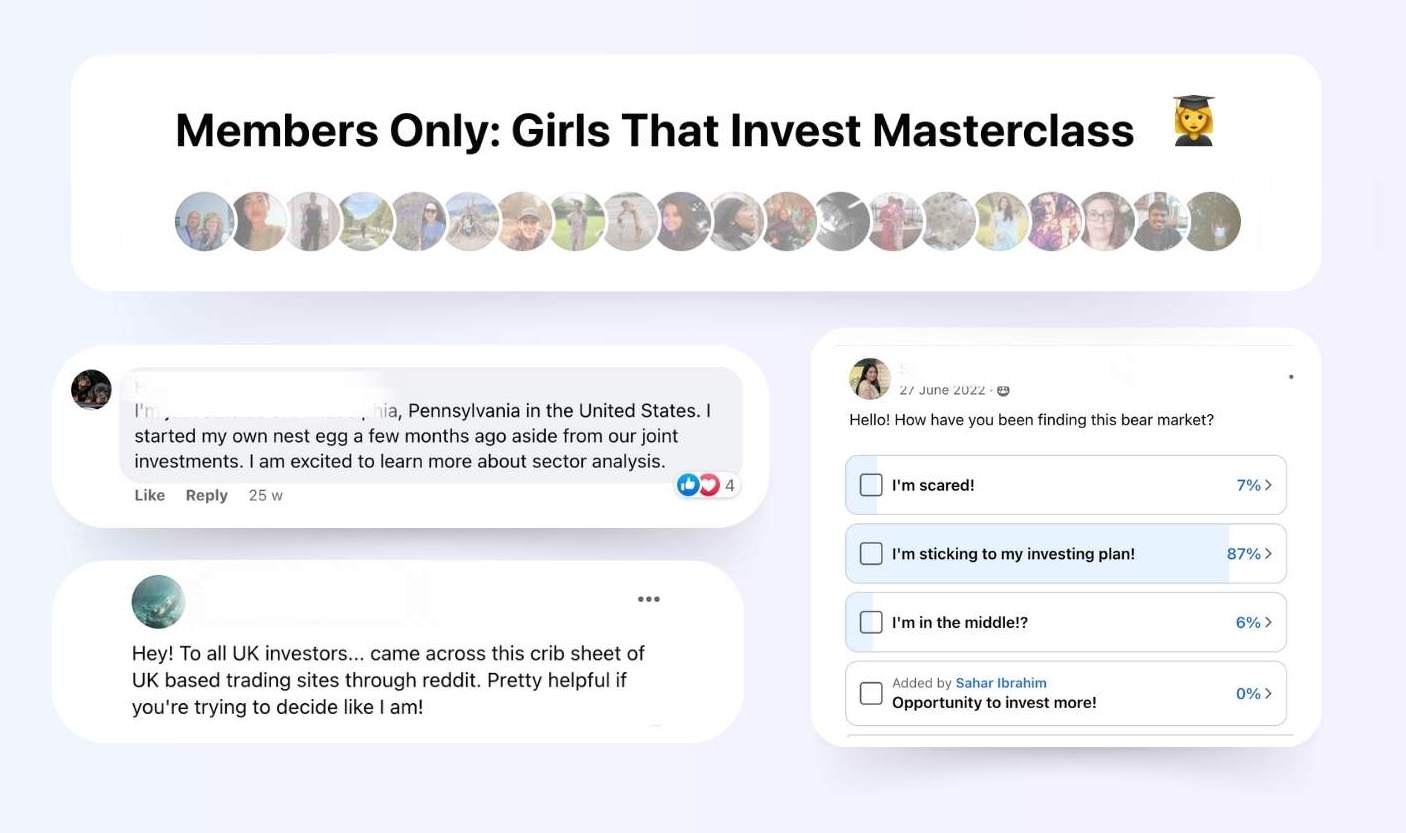 Be a part of our
exclusive community
A place for you to create your own inner circle with other investors on the same journey as you. You can find people from all over the world to bounce ideas off, ask questions, or form an accountability group.

No really, our students make Whatsapp accountability groups without us.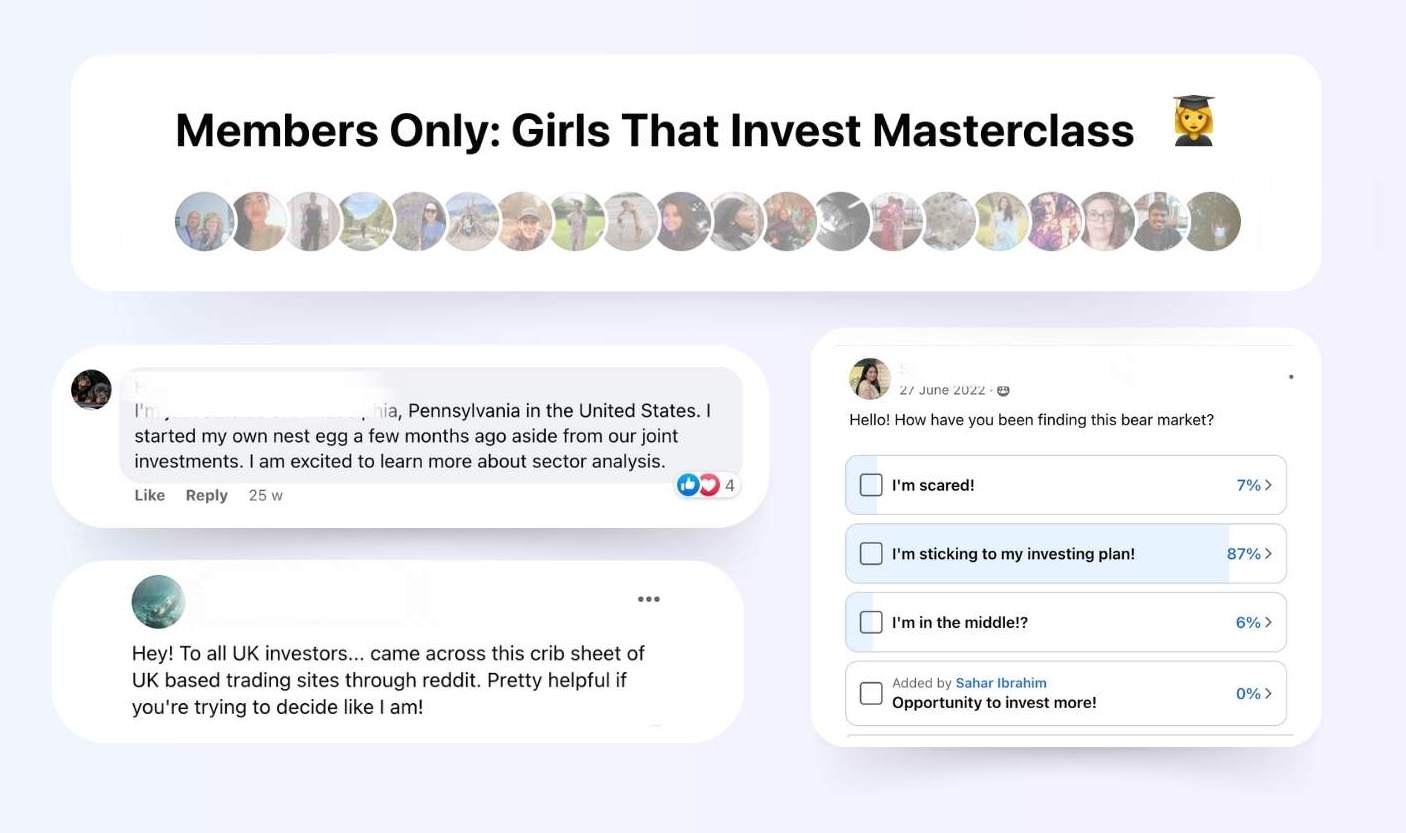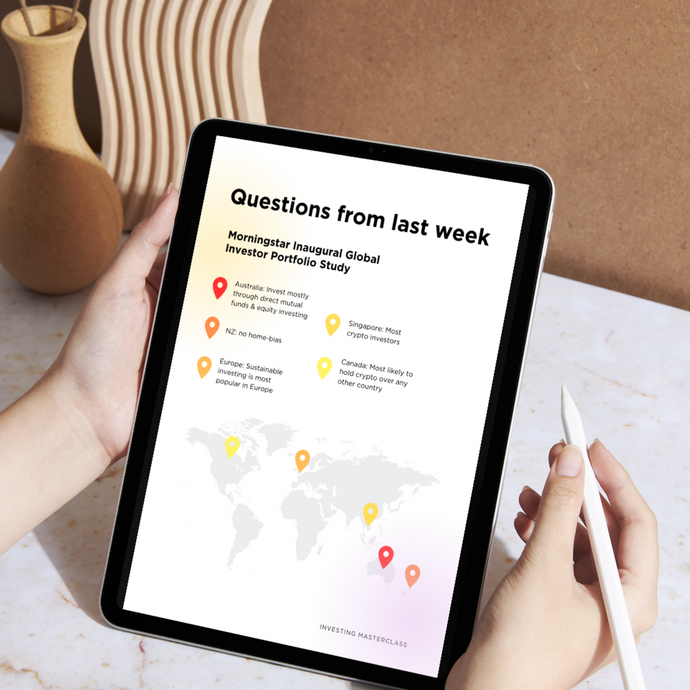 Get Masterclass
Summaries
You didn't think this course was just theory, did you? We've created a 10 part e-book filled to the brim with summaries of each module. It's specially designed to take all the jumbled up thoughts in your head and transform them into tangible ideas for your investment portfolio.
But Don't Just Take Our Word For It
Let's hear from some of our past students…
I got sad when the masterclass ended!
A little bit sad that this is over! If you have any other classes in the future about personal finance I would sign up!! I loved that everything was so approachable and easy to understand. I've avoided investing for the longest time but this masterclass made it so easy!!!
This course blew my mind
I loved this course so much!! Thank you for putting your time and effort into educating us future investors and encouraging more women to start their investing journeys! I had a basic understanding but now I feel so much more confident and knowledgable.
I'm excited to really get serious about investing!
Love how sincere this course is
I appreciate you arent very flashy and "Im going to teach you how to be a millionaire", but instead are... very approachable and just want to teach people what you know.

There is a level of sincerity in you guys that made me want to follow you on this journey.
This course needs an award
I loved this masterclass and I think the two of you need to be nominated for some sort of award. You are providing so much-needed information about money and finances and breaking down barriers in relation to entry into the market and also the understanding of all these terms. Thank you both so very much.
Was Worth Every Cent
Absolutely loved this course it was worth every cent. Thank you for letting us do this with you:)
I have learnt soo much from this masterclass. I was afraid at first but feel I am taking the necessary steps for future me! I feel more confident than ever. Thank you!
I thought I knew a lot about investing...
The knowledge in this course is incredible. I thought I knew a decent amount before starting this but the breadth of knowledge that this provides goes beyond the basic investor. It really took my understanding to the next level!
I have a notebook filled with notes from this course
This Masterclass has been a great opportunity to gain a better understanding of the stock market. I now feel confident that I have the right tools to make educated decisions - I also have a notebook filled with notes from each Module!
I feel like I finally know what I'm doing
I have been winging it for a while but thanks to you guys I actually feel like I know what I am doing moving foward.
I can't wait to implement an actual investing strategy!
Thank you so much
This course is SO Detailed!
I loved how in depth it was - really does go in to detail on understanding what investing is, how to invest, what noise is out there, how to understand the noise. It really does empower us. I feel so much more educated and confident now! The Q&A coverage is so great as well!
I avoided investing for the longest time until this course
I loved that everything was so approachable and easy to understand.
I've avoided investing for the longest time but this masterclass made it so easy!!!Thank you so much for making this course!
So many people need to do this course
This masterclass was phenomenal. It blew my mind. So many people need to do this course and understand how they too can grow their wealth. I feel empowered that I have this detailed knowledge and can make an informed choice on what type of investor I wish to be.
This course makes complex content so simple!
I loved Sim's laid back delivery of the content.
It made it feel so reassuring that its actually all quite simple once you have a basic understanding. I feel so much more confident now to invest.
Thank You!
How do I know if this is going to work for
me?
If it means you'll have:
Started to unlearn myths about your relationship with money
Discovered what green and red flags to look out for when looking at shares and funds
A framework to read financial reports when assessing a company
An inner circle who're there to support you through the highs & lows
A way of figuring out how to accurately follow and analyse investing jargon & news
A workflow to consistently review and grow your investment portfolio
Laid down the foundation that's going to help you create generational wealth for your and your family
Then yes, it'll work!

Look, I can't guarantee you'll 10x your money and earn a full-time income overnight after going through the investing masterclass.
But I do guarantee that if you do the work, follow the steps, and commit to moving forward, you'll have all the tools you need and you'll feel more confident about being a life long investor.
because if you're unhappy
We offer a 30 day Money Back Guarantee
We absolutely trust our process to help take you from a new investor to one who is both knowledgeable and confident, so if you for any reason feel dissatisfied, we are happy to provide a 30 Day Money Back guarantee.

No Questions Asked.
If you're down here
You may be thinking about piecing together all the glorious
free content

in our podcast or book.

My 100% honest take? There's nothing wrong with the DIY route. Many of your favorite investors – myself included – have found successful through good old trial & error.

But I'm guessing that if you're here, this approach has only gotten you so far.

And it's likely taking you hours to sift through hundreds videos just to find one useful piece of advice that's relevant to you.

That's why I created The Investing Masterclass. It's filled with the steps I took to go from no knowledge to a confident & knowledgable investor. And it's everything I wish I'd known as an investor in training, all in one handy place.

And if you trust the process, and follow the steps, you'll spend less time listening to endless podcasts and more time intentionally moving towards the goals that actually matter to you.
FAQs
Have you got questions? we've got answers
Do I have to be from the US to take this course?

Not at all, this course is for anyone worldwide. Our students have come from US, UK, Australia, New Zealand, Canada, India, Sweden, Italy + more! Our course is tailored to suit everyone, no matter where in the world you invest in!
Will this help me if I've already started investing?

Absolutely! We'll let our past students speak for us here, one of our most recent cohorts gave this feedback: "The knowledge in this course is incredible. I thought I knew a decent amount before starting this but the breadth of knowledge that this provides goes beyond the basic investor. It really took my understanding to the next level!"
Is this a live or recorded video course?

You do not need to worry about time zones as the videos are not live.

The entire course is pre-recorded every week in HD video so that it is still topical. Modules will be dropped weekly over the course of 6 weeks. This means you can play and pause each module in your own time, but keep at the weekly pace of the rest of the class. There will also be supplementary PDF summaries each week.
Girls That Invest gives a LOT of free content on their podcast and also their book, how will this be different?

You're right, we love providing free valuable content.


Our podcast and Google have thousands of free resources to help you start investing as well, so if you're strapped for cash, it's a great place to start!

With our investing masterclass, you don't have to sort through all the information on your own. It's all the steps you need to start & grow, in the right order.

So instead of spending your precious time consuming endless free videos, you can focus your attention on implementing the skills you'll learn to invest with confidence. I'm also showing you a behind-the-scenes look at my decision making process when researching shares and funds, my workflows, and how I operate my portfolio (all info you can't find for free)

Our course is where we reveal our more advanced content organised in a clear roadmap, so you have a step-by-step path with no missing pieces.
Is this investing course for beginners? What can I expect from this course?

Yes! In fact this course is specifically designed for anyone starting out. We've created a comprehensive masterclass on what you need to know about investing, so that you can learn the tools needed to begin your investing journey. This course assumes nothing about your current investing knowledge and is therefore completely beginner friendly. We all start on the same page! There course also provides a deep dive into investing education and is therefore great for those who have a small idea on how to invest but would like more clarification.
Will I always have access to this course?

100% correct! This course will be available indefinitely.
Do I get access to a private Investing Facebook Group Through This Course?

Absolutely! Our members only group provides our members an exclusive community to share ideas and ask questions. It's a safe space, just made ✨boujee✨
What if I am unhappy with this course?

We absolutely trust our process to help take you from a new investor to one who is both knowledgeable and confident, so if you for any reason feel dissatisfied, we are happy to provide a 30 Day Money Back guarantee. No 👏 Questions👏 Asked👏 .
Whats the time commitment for the course?

1-2 hours of pre-recorded videos drop every week for 6 weeks.

You can watch them weekly and keep up with the class. Many students choose to watch the videos when it suits them as they have lifelong access and can use the exclusive group to ask questions at any time.
This sounds cool! But I don't have time to commit to a course right now.

No worries! I know life can get pretty chaotic, which is why I created this to be a go-at-your-own pace course. You can do 1 module a week with us, or take 3 months or even 6 months if you need! You'll also have lifetime access to this course, so you can revisit it when you are ready to tackle the course in your own time.
What do I do if I still have questions?
Enrolments Are Closed For 2023
Join our waitlist to be the first to hear when our Investing Masterclass is back.